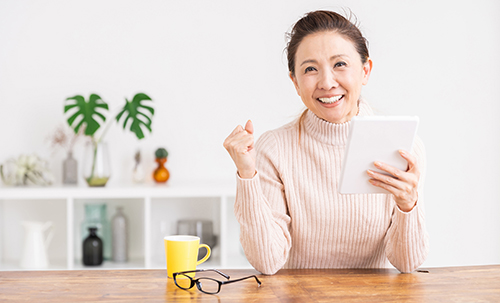 myERF HAS BEEN UPGRADED
myERF was upgraded in November 2020 to make it easier for our members to view their retirement information, access retirement and tax documents, and an all new pension estimator. All members are required to re-register to access the new myERF.

Click below to login or register for a new account.
WHAT IS MY ACCOUNT NUMBER?
For retirees your Account Number is the Number ERF gave you when you retired. You can find this number on your Retirement Letter, past paystubs, or your 1099-R. Active employees use their Employee Number.
I ALREADY REGISTERED FOR THE NEW MYERF AND NOW IT SAYS I DO NOT EXIST?
Make sure you are on the correct log in page. If you Google serach myERF, you may be taken to our old log in page. The old log in page is all white. You can get to the correct log in page by selecting the dark blue myERF login button at the top of this screen.
I GET AN ERROR THAT MY USER INFORMATION DOES NOT MATCH OUR RECORDS WHEN REGISTERING.
This error means that you have input something that does not match what we have on record exactly. If you are putting in your employee number without the zeros to make it 6 digits this can cause this error. If you are a retiree trying to put in your old Employee Number instead of your Account Number you will cause this error. Make sure you do not have a space before or after your last name or number. If you have checked all of the above and still receive the error, call or email or office.
WHY WON'T MYERF ACCEPT MY VERIFICATION CODE?
The verification code is sent you to verify your identity and secure your account. If you accidentally send yourself multiple codes, ensure you are using the most recent code you received. Be sure that you are not closing out the registration page to get your code, if you close the page to get your code, the code will not be accepted. You must leave the tab open and open a new tab if you need to log in to your email to get the code.
On the login page, click the Reset Password link under the blue Sign In button. Enter your username and follow the rest of the directions prompted on the page.
You can view your username by clicking the Forgot Username link on the login page under the blue Sign In button. Enter the email or phone number associated with your account and follow the directions on the page.
This error occurs when you are trying to create a username that another member had already taken. You will need to use a different variation of your username. This error does not mean you already have an account.
If you are an Active Employee, you will need to update your information in Workday to see it on your myERF account. You can still complete the registration if one of your contacts is correct.
If you are a Retired Member and the email or phone number on file for you when registering is incorrect, call or email our office to get it corrected.
To change the year, click on the year at the very top of the calendar page in the dark blue section. This will allow you to scroll to your birth year.
Click OK when done. You can change your birth month by clicking on the arrows next to the month and year in the white section of the calendar. Next Select your day of birth. You will know it's selected if it appears in the blue circle.
To select your birth date, you will need to change the month and year by selecting the blue > next to the month and year in the calendar's top right-hand corner. You will be able to scroll up and down on the month and year to select your birth month and year.
When you have selected it click OK on the bottom right. Now you can pick that day of your birth and click OK. If you still cannot get it to work, we recommend using a laptop or computer to register.
This is a glitch we are working on in the new system; if you have updated your beneficiaries already and sent in your form, your file probably is correct. The glitch is sitewide. You can always call our office or email us to verify who we have listed as your beneficiary.
myERF VIDEO TUTORIALS
myERF has been updated to provide all ERF member types with more information about your pension benefit, including a real time retirement calculator and downloadable 1099R forms and monthly paystubs.
ERF staff have created several tutorial videos to help Active Members, Deferred Members, Retirees and Beneficiaries navigate the new myERF.
QUICK REFERENCE GUIDE
myERF requires a new registration for all members, even those who previously had an account, we have created a step by step reference guide to help you through the registration process.
Click below to view and download the guide to registering for a new myERF account.